Menus
Meals, foods and beverages sold or served at schools meet states and federal requirements which are based on the USDA Dietary Guidelines. We provide students with access to a variety of affordable
and appealing foods that meet the health and nutrition needs of students.
*For product ingredient lists or labels, please email vanessacorona@fusdk12.net
Local and Domestic Products Are Sourced Whenever Possible
The following items are not produced in sufficient quantities in the USA:
-Bananas (South America or Central America)
-Pineapple (Thailand, Philippines, Central America, or Ivory Coast)
-Juice (When domestic juice concentrate is unavailable it is sourced from Argentina and/or China)
-Cucumbers (When unavailable from the U.S. they are sourced from Mexico)

_____________________________________________________________________________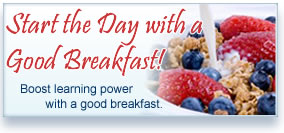 The following elementary schools participate in the Breakfast and/or 2nd Chance Breakfast programs:
Azevada, Blacow, Brier, Brookvale, Cabrillo, Durham, Glenmoor, Grimmer, Hirsch, Maloney, Oliveira, Patterson, Vallejo Mill, Warwick
Contact your school's main office for times and information.
Click here for great School Breakfast info!
_____________________________________________________________________________
| | |
| --- | --- |
| From your device, click the link at right to get the app... | |
Note on viewing menus:
To view previous month's menus click the back symbol
And to view menus in the future click the forward symbol