Menus
| | |
| --- | --- |
| From your device, click the link at right to get the app... | |

______________________________________________________________________________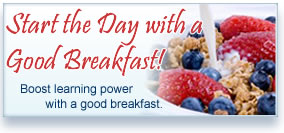 Meals, foods and beverages sold or served at schools meet state and federal requirements based on the USDA Dietary Guidelines. All meals, foods and beverages are prepared and served by qualified child nutrition professionals. We provide students with access to a variety of affordable and appealing foods that meet the health and nutrition needs of students.

Click here for great School Breakfast info!


The following schools participate in the Breakfast and/or 2nd Chance Breakfast programs:
Azevada, Blacow, Brier, Brookvale, Cabrillo, Durham, Glenmoor, Grimmer, Hirsch, Maloney, Oliveira, Patterson, Vallejo Mill, Warwick
Contact your school's main office for times and information.
_____________________________________________________________________________
For the month of February, we will be offering Non-Fat Strawberry Milk at lunch on Fridays.
*For more information on ingredients & nutrition labels click here.
Note on viewing menus:
To view previous month's menus click the back symbol
And to view menus in the future click the forward symbol